From time to time we receive requests that a gong mallet or gong driver can no longer produce the full sound spectrum on an instrument. Perhaps you, too, sometimes find yourself frustrated that after a while you can no longer produce the sounds you want on your gong.
One of the most common problems is that the rubber ball or even the fleece of the mallet or reamer has hardened – and this, of course, means that you can no longer make the sounds you want on your sound instrument.
The altered sound is usually not due to the quality of the mallet or reamer, but is almost always related to the care and use of the gong and mallet. Also, "snail marks," which are streaks or crumbs on your gong, are due to residue from cleaning agents or dirt previously picked up with the gong mallet or driver.
To prevent this from happening in the first place, we have summarized the most common causes, best care tips and simple application recommendations for you in this article.
Common reasons why your mallet or reamer no longer produces the desired sounds
There are different reasons why you can no longer produce the desired sounds with your tools – i.e. your mallet or reamer. But they all have one thing in common: the result is always a hardening of the rubber ball or the Wellness Fleece – and this significantly affects the sound.
These are the most common causes of altered sound
Residues of cleaning or polishing agents have remained on the instrument and collected on the rubber ball or on the fleece of the mallet.
Dust or dirt has settled on the gong and was picked up by your mallet or reamer while playing.
Due to unprotected storage of the beaters or reamers, dust and dirt have settled on the beater heads or UV radiation has damaged the material.
Deposits due to dust or residues of polishing & cleaning agents
The most common problem is that a gong mallet or gong driver attracts dirt, such as dust or residue from cleaning products still on the gong. In particular, residues of polish or soap will cause the precincts to become hard – and of course this will directly affect the sound you want to produce with that mallet or reamer on your gong. Heavily hardened rubber balls look almost as if they had been dipped in silicone.
In very rare cases, a speck of dust from grinding the rubber ball may remain on the surface of the striker head, causing an unwanted noise when playing your gong.
Unfortunately, a hardened layer on a gong mallet or reamer is only noticeable after a year or two. Usually it is then too late to reverse the whole thing. But to prevent this from happening in the first place, we have put together a few simple tips for you.
How to properly care for your gong mallets and mallets
We keep our promise: All ollihess gong mallets or gong drivers will have a long life if you follow a few simple tips for care and use.
What matters most is the proper care of your gong. This is because dirt or dust deposited on a gong is always picked up by the mallet when it is played. So we start with the most important tips for gong care.
Clean your gong properly
Clean a nickel silver gong with a dry microfiber cloth before each playing. You can warm the cloth slightly beforehand – this makes polishing even easier.
You can clean a TamTam or Feng-Gong from impurities with a damp, soft cotton cloth. Afterwards, however, you should rub the gong dry.
Choose the right cleaning agent for your gong
Use only professional cleaning products to clean your gong. We advise against using agents that are not explicitly suitable for cleaning sound instruments.
In case of coarse impurities on a TamTam or Feng Gong, we recommend you to use a special cleaning stone about every two to three months. However, make sure that you carefully rub the gong dry after the cleaning process so that no powder residue remains.
For gongs made of nickel silver, cleaning agents containing ammonia were very often used in the past – but these are no longer available. The use of furniture polish can also have a lasting effect on the sound of your instrument – because it hermetically seals the surface of a gong.
The right storage
Dust and UV radiation can attack your tools. So you should always store your ollihess mallets and reamers in the included cotton bag after use.
You can protect our gong drivers from dust and UV radiation in the paper bag we pack them in. Excessive humidity can have an impact on the beech wood from which we make the stem of our mallets. Therefore, also make sure that the storage is as dry as possible. Of course, other packaging such as small boxes or bags are also suitable for safe storage.
Be excited: Soon the ollihess reamers will also get a new packaging, which is perfect for storage.
But not only mallets and rubbers need a good protection: You can also store your gong in a soft case or a gong bag. If it is left unprotected in the room, don't forget to clean it regularly.
How to prevent hardening of your gong mallets or mallets
If the hardened layer on the rubber ball is not yet so thick, you can try to dissolve it with hot water. You can perform this gentle cleansing method on a regular basis.
Here's how you do it:
Boil about a liter of water.
Hold the mallet head over a sink and gently run the water over the ball.
Observe the rubber: The hot water gives it a kind of shock and it "unfolds" again.
Then place the mallet or grater on the windowsill and let it dry slowly in the sun or even on the heater.
If you are unsuccessful with this method, you can also pull the rubber ball once through a sandpaper with 40 or 60 grit. You should avoid bathing in cleaning or care products that are not specifically intended for mallets or reamers.
However, please note: We promise you a particularly long service life with all our products – but even natural rubber can never last forever. This is true not only for bicycle or car tires – but unfortunately also for gong mallets and drivers. Friction and dirt affect the material over the years and thus influence the surface.
How to properly care for the wellness fleece of a gong mallet
The particularly soft wellness fleece of the ollihess mallets and reamers should only be cleaned when absolutely necessary. Because water affects the insulating layer of the material and makes it harder. Since the beater head is also built completely ecologically under the fleece, water can also have a negative effect on the insulation here. You should therefore be particularly careful when cleaning.
Here's how you do it:
Moisten a sponge or cloth and rub it over the fleece in a circular motion.
Then place the mallet on the windowsill and let it dry in the sun or on the heater.
How to properly care for felt balls
The felt ball of a gong mallet – such as the ball of the professional gong mallet J.O.-70 – has a very special degree of hardness (e.g. 100 or 200 Shore). If the ball is processed too wet or with a lot of pressure, the degree of hardness and also the shape can change as a result. Of course, this in turn affects the sound. Nevertheless, you can also perform a particularly gentle cleaning on felt heads.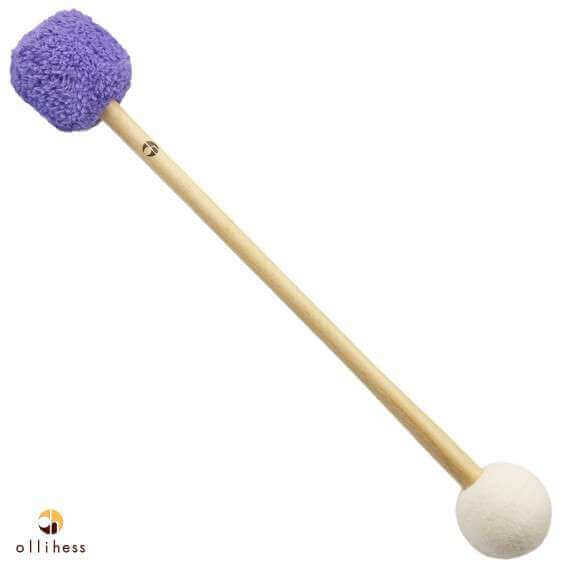 Here's how you do it:
Moisten a sponge or cloth with water and gently rub over the contaminated area on the felt ball.
Since the felt ball is particularly sensitive when wet, hang the mallet up to dry afterwards.
Tip: The ball in the core of our super light professional Gong Mallet lite 100 or lite 200 is also made of felt. So if your mallet ever gets wet, again, be sure not to apply pressure to it and hang it up to dry.
How to properly care for the wooden handle of the mallets and reamers
The wooden handle usually does not require much care. But if necessary, you can regrow it again after some time. We recommend an organic wax for this purpose, just as we use in the production process.
If you follow these simple tips, you will certainly enjoy our products for a long time. If you are unsure or have further questions about care that are not answered here, you can always contact us.